Nature and books belong to the eyes that see them.

— Ralph Waldo Emerson
I'm the friend that those close to me come to for book recommendations. I love being this friend, but it also presents its challenges.
First, how do I know the book I loved will be good for my friend? Everyone approaches a story with their own set of past experiences and current states of mind. I know I can read a sad story and embrace all of the emotions that come with it but have also had friends read the same book and get angry that I gave them something "so depressing."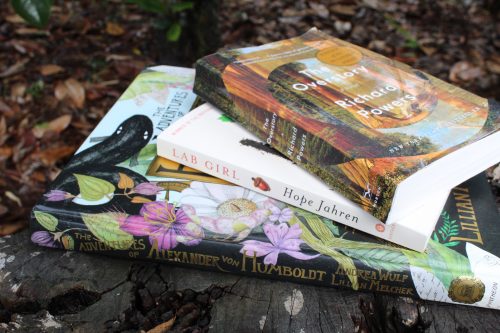 Second, I read so many books! Every time someone asks me for a recommendation, I have to look through my long list and remember what I liked, why I liked it, and think about what is a good fit for this particular friend! Obviously, I don't take reading or my book recommendations lightly.
With that said, I've decided to compile a list of natural history related recommendations (fiction and nonfiction) for fellow readers to peruse. Of course, there are MANY more books related to museums and natural history out there (this is something I'm frequently overwhelmed by) but sometimes it's nice to break it down and choose from a much smaller selection. I've read and enjoyed all of these and hope you can find something here that may interest you too!
Fiction
The Overstory by Richard Powers – I read The Overstory early in 2020 and months later, I'm still thinking about it and I don't care who asks, I recommend this one to everyone! One thing to keep in mind, this is not a light a read or one you can breeze through quickly. It is 512 pages of pure character development, twisting plot lines, and trees, so many trees! The book introduced me to a hidden world of natural history found in the roots and interconnectedness of trees. On every page, I was reminded of the very special human connection we have with the natural world and the role we play in protecting our environments. There's no way I can write a review good enough for this book so I'll leave it with that and hope you pick it up for yourself.
Unsheltered by Barbara Kingsolver – I'm going to be honest here, I had no idea this book was about a real person until the very end when I Googled it! Actually, I'm pretty sure I went into this one blindly after it was assigned for my book club, but it was such a pleasant surprise! If you've ever read Kingsolver, you know she loves a quality overlapping narrative and in Unsheltered, you're sent back in forth in time between a modern family and the life of Mary Treat, a naturalist and correspondent of Charles Darwin, so cool! Mary Treat even made contributions to Florida's natural history including the discovery of the lily Zephyranthes treatae which is now called Zephyranthes atamasca var. treatae. Whenever I see these lilies pop-up, I can't help but think of this lovely book!
Euphoria by Lily King – As a big fan of anthropologist Margaret Mead since college, you better believe I was thrilled to uncover this book inspired by her life. The book gives readers a glimpse into 1933 when the lives of three young anthropologists — Margaret Mead and her second and third husbands, Reo Fortune and Gregory Bateson — intersected along the Sepik River in New Guinea. I don't always remember where I was when I read a book but I'll always remembering diving into this one on a trip to Puerto Rico in 2015. As I felt the island humidity hugging me, I could easily close my eyes and imagine the life of Mead in New Guinea. I usually fly through books like this but I remember having to pace myself so it would last the whole trip. This book is a quick read if you let be but I'm sure if you try it, you'll easily get sucked into the suspense of discovery and desire.
Where the Crawdads Sing by Delia Owens – As you may have figured out by now, I'm a big fan of intertwining plot lines, twisting timelines, and surprising character connections. Maybe this is because you get multiple stories in one book and whether I'm reading fiction or nonfiction, I'm in it for a good story! In Where the Crawdads Sing you get two stories, one is a murder mystery (which I'm always down for) and one tells the adventures of a young girl surviving and thriving in nature (also, always down for). While the stories are amazing and will definitely keep you turning the pages, it was the descriptions of the marshes and swamps of coastal North Carolina that were truly spectacular. As someone who loves exploring new environments, this book felt like taking a little adventure into the woods every time I picked it up.
Nonfiction
Adventures of Alexander Von Humboldt by Andrea Wulf and Lillian Melcher – This is the only graphic novel on this list! I've read a handful of nonfiction graphic novels and this is by far one of my favorites (hint: if you like science graphic novels, also check out Radioactive by Lauren Redniss). If you prefer your books without gorgeous illustrations (weird but okay), Andrea Wulf wrote The Invention of Nature first so you can get your dose of Humboldt adventuring in that way. Now back to the graphic novel, holy moly, it is BEAUTIFUL! I never read books twice (I don't have time for that) but with this book, I continue to flip lovingly through the pages to take in the details of the artwork found on every one. My first go around, I enjoyed the story and learned so much about early science exploration and Humboldt's harrowing tales but I highly recommend going through it a second or third time to appreciate Melcher's well-researched illustrations.
The Feather Thief by Kirk W. Johnson – Going into this one I felt like I had a solid understanding of how museums, collections, and obsessive hobbies work and wasn't sure how much I would get out of it but, boy, was I wrong! I didn't know anything about the world of the underground feather trade or many of the histories told while describing the bizarre tale of Edwin Rist, feather thief. Though this is technically nonfiction, I would recommend this book to anyone who enjoys a classic thriller novel. Watch out though, you may even learn a little about climate change, extinction, and the importance of museum collections along the way!
Lab Girl by Hope Jahren – So here's the thing – I work with academic scientists almost every day but until I read Lab Girl, I had little understanding of what the process of being an academic scientist actually looks like. Of course, everyone has their own personal experiences and reasons for becoming a scientist, but this book was an eye-opening story of one person's road to success in science and all of the road bumps, potholes, and flat tires along the way. I think Barack Obama said it best when he wrote "Lab Girl by Hope Jahren is a beautifully written memoir about the life of a woman in science, a brilliant friendship, and the profundity of trees. Terrific." I also love trees and this book. Thanks, Obama.
The Wasp that Brainwashed the Caterpillar by Matt Simon – If you're looking for a book you can casually pick up in short spurts and have your mind blown every time, this one is for you! This book is written in short chapters, each focusing on an element of natural history weirder than the last but what really makes this book unique is Simon's humor. Reading this book felt like sitting at a bar with a bunch of scientists trying to outdo each other with their nerdy jokes and a deep passion for their subjects. Hey, maybe that would be a fun museum program!
---
This originally appeared in Wonder & Grow, a blog by Chelsea Collison, one of our former Museum educators.
---