Ah, the last day of camp! Seems a little anticlimactic without all the tears, exchanging of parent's phone numbers, and feet dragging out of the museum but the sense of accomplishment I have for the campers and our hardworking undergraduate interns still lingers.
As I said in the last post, virtual camp despite all its challenges, still managed to build meaningful memories for me and I hope all our camp families and museum interns would agree.
Our virtual camp team this summer included the public program's staff of 3 (myself included) and 6 undergraduate interns, many who started this adventure without ever having stepped foot into the museum! I'm going to let this crew help tell Pt 2 of this summer story.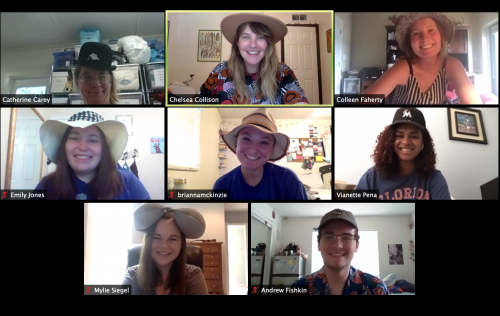 I kicked off the summer by virtually soaking the new interns in a marinade of museum content – recorded lectures, live programs, blogs, research articles, social media, and more! I wanted them to feel like they had been to the museum, even if they had not.
Five out of the team of nine had experienced an in-person museum summer camp and we all agreed from the beginning we wanted to recreate that experience as close as possible. Our returning interns Emily and Brianna both said that their least favorite thing about virtual camp was not being able to interact with the campers in person, and I agree, there's something super special about spending full days with a lively bunch of kiddos with endless curiosity.
In contrast, Emily's favorite thing about virtual camp is that no matter what, kids are still kids. She said, "My favorite thing about virtual camp is that the campers are still the same. They all have this excited energy to explore and share stories with one another." A phrase commonly said by camp teachers is "questions not stories" in response to the kiddos who strain their arms to be called on for questions only to respond with an unrelated story about a turtle they saw once. In virtual camp, we had a lot of stories like this from campers eager to tell us about the goings-on their homes. There is a time and a place for these stories and in this setting, we reserved time for sharing and caring before and after each session.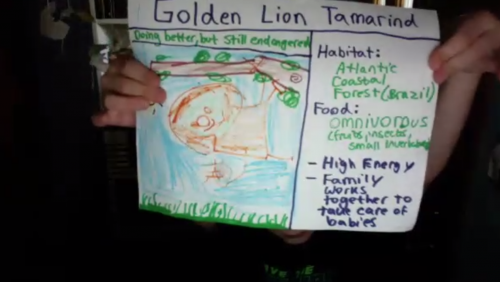 For summer intern Vianette Pena, this was her first time working in a museum camp. She said, "Teaching in a virtual setting requires an open mind and flexibility when it comes to redirecting a group of students" and oh man, she is so right. Intern Andrew agreed, reminding me how "easily campers get distracted easily when in their own room/house, so you have to work even harder to keep them engaged."
Inside an in-person classroom, I'm used to raising my voice to a level that is louder than the rest of the room, demanding the attention of every wiggler and fidgeter around but in a Zoom Room trying to speak over the chatter only adds to the chaos. Having interns in every session to help keep the campers on task by monitoring the Zoom chat, playing along with the games, and reminding them of the importance of speaking one at a time was crucial.
Intern Colleen, another first-timer said, "Camp was super fun! I felt like I was contributing something to the camp, I got to know the campers, and I got to work on my virtual skills." As future educators, the camp experience is a chance for our interns to dip their toes and splash around in the wild waters of informal education. We hope that they can carry their lessons learned at the museum into the next steps of their careers whether that's in a formal classroom or elsewhere. The fact that this year's camp was virtual, also gave them a peek into what it may be like for formal classroom educators as we enter the fall semester
As intern Mylie said, "It's bittersweet that camps finished this week, since the kids were so great, and I learned so much by interacting with them." I think the whole team can agree and with that, farewell, until next summer!