Coding is used to design the websites and apps we frequent daily, but it can also be used by environmental scientists to understand and protect the complex systems on Earth.
Amy Kendig, a postdoctoral researcher studying plant disease ecology in the UF/IFAS College of Agricultural and Life Sciences, wanted Gainesville-area middle and high school students to learn how researchers use coding techniques to understand invasive species and plant diseases.
With funding from the UF Thompson Earth Systems Institute, she developed a free, one-day workshop titled, "Coding in the Environmental Sciences." Students identifying as an underrepresented gender in computer science were especially encouraged to register.
During the workshop, 14 students visited experiment sites at an outdoor lab on the UF campus, learned basic coding skills and used those skills to answer environmental science questions.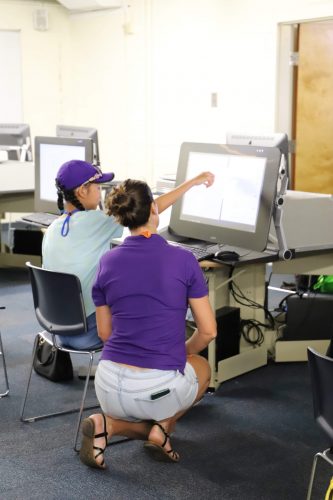 The results of the workshop were promising.
93% of students walked away from the workshop making significant gains in their coding techniques.
71% left with a better understanding of how to measure biodiversity.
80% increased their ability to answer questions using data.
"The students picked up their coding skills really quickly and they got to experience the messiness that is science," Kendig said. "I am thankful to TESI for the support in hosting this program. I look forward to doing it again in the future."