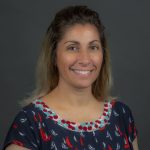 Stephanie Killingsworth, K-12 education and outreach coordinator for the UF Thompson Earth Systems Institute's Scientist in Every Florida School Program, has recently been elected the new Area 10 Director of the Florida Association of Science Teachers (FAST), a nonprofit organization that works to promote science literacy and improve science education. Area 10 comprises Palm Beach and Broward counties.
Killingsworth has had a varied career that is well-suited to this new role. She is a biologist who spent 14 years in orthopedic sales and then switched career paths to teaching. She taught 7th and 8th-grade gifted science in West Palm Beach for several years and gained local, state, and national recognition for her innovative projects for students in and out of the classroom.
Last year, she joined the SEFS team, working remotely from West Palm Beach to connect teachers and scientists in SEFS' seven pilot counties, and to provide professional development opportunities.
She believes through her position at SEFS she will be able to greatly expand the science resources available to teachers in Area 10.
"It's my hope to grow the FAST platform within Palm Beach and Broward Counties and better provide amazing opportunities to the teachers I serve," Killingsworth said.