Florida is home to nearly 700 vertebrate and more than 30,000 invertebrate animal species. At the same time, 21.3 million people take up residence and 100 million tourists visit the state each year, making human-animal interaction inevitable.    
Sometimes, these interactions make headlines. Here are seven Florida animals who have made the news this month. 
Sharks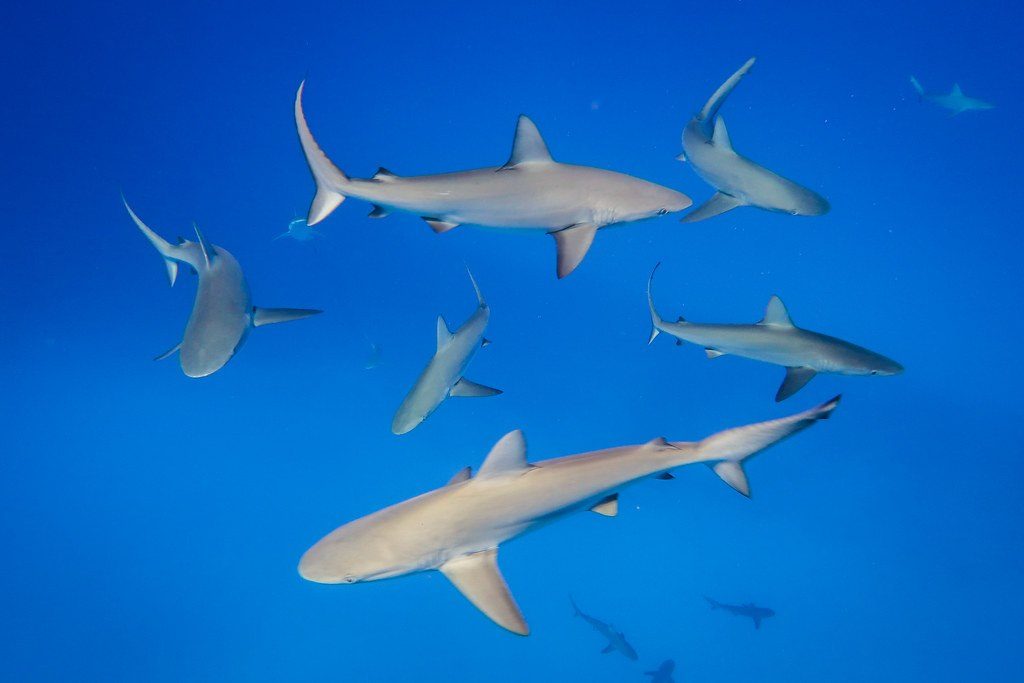 Thanks to #SharkWeek2019, some of our favorite apex predators made the list, flooding national headlines. But, sometimes a media blast such as this can incite fear among beachgoers. Don't worry, says Gavin Naylor, marine biologist and director of the Florida Museum of Natural History Program for Shark Research. Naylor currently oversees the International Shark Attack File — a global record of reported shark bites that has been maintained continuously since 1958.  
"We are careful to emphasize how rare shark bites are: You are 30 times more likely to be struck by lightning than be bitten by a shark. You are more likely to die while taking a selfie, or be bitten by a New Yorker," he writes in The Conversation.  
He says instead of the anxiety that comes along to shark week, he hopes to inspire curiosity about shark characteristics that are often overlooked. Read more in his article, Shark Week Looms, But Don't Panic. 
Still a little panicked? Naylor's 10-year old children Luke and Sophia created this stop-motion animation for tips on how to avoid a shark attack.  
Green iguanas
The green iguana population in Florida is thriving. So much so that the Florida Fish and Wildlife Conservation Commission is encouraging residents to humanely kill the large lizards on private property (with homeowner permission) and on 22 public lands managed by the agency. No permit or license is needed. 
The invasive species, which can grow up to five feet long, came to Florida in the 1960s and their populations have increased dramatically in recent years. Scientists suspect warming temperatures caused by climate change could have something to do with it. That, and Florida's extensive network of man-made canals serve as corridors for iguanas to colonize new areas.  
"They can cause considerable damage to infrastructure, including seawalls and sidewalks," reads the FWC website. Not to mention, they also munch on pricey ornamental plants.  
If confronted by an iguana in your garden, the FWC recommends that you trap it and obtain euthanasia services from local exotic veterinarians, humane societies or animal control offices depending on the location and availability of services.  
If you are not capable of safely removing iguanas from your property, please seek assistance from a professional nuisance wildlife trapper. 
For more information on green iguanas, visit: FWC Green Iguana 
Red Snapper
In 2009, the red snapper stock in the Atlantic was deemed as overfished. But over the past few years, in response to a recovering population, resource managers have opened up the harvest season for one to three weekends at a time. This year's mini season ran from July 12-14 and the FWC and National Oceanic and Atmospheric Administration encouraged anglers to help capture information about the fishery by filling out surveys and collecting biological samples. 
"The seasons provide an opportunity for researchers in Florida to collect biological data from harvested red snapper that helps monitor the stock's recovery," reads the FWC website. "The information is used to provide fishery managers with a precise estimate of the numbers of Red Snapper harvested during the recreational season to ensure fishing is sustainable." 
The surveys and samples collected are then given to the Southeast Data Assessment and Review for the next red snapper stock assessment.  
View the results from the 2017 & 2018 Atlantic Red Snapper season sampling efforts: Results from Red Snapper Research on the Atlantic Coast 
For information on snapper rules and regulations, visit MyFWC.com/Marine, and click on "Snappers" under the "Reef Fish" tab. 
Manatees
Last year, fierce cold snaps and red tide were to blame for most manatee deaths in Florida, but this year boat collisions seem to be the main culprit. As of mid-July, 89 manatees have been killed this year from watercrafts. Officials say at this rate, the deaths of manatees from vessels could reach an all-time high.  
According to the FWC, in any given year, approximately 25-30% of manatee deaths statewide are attributed to boat collisions.  
"In recent years, manatee deaths caused by blunt-force impacts (non-cutting) have outpaced manatee deaths caused by propeller cuts, with a small portion of the deaths/injuries attributed to both causes," reads the FWC website.  
In 2017, manatees were reclassified as threatened rather than endangered, meaning its populations were recovering. Florida's manatee population is estimated to be between 7,000 and 10,000 individuals. But, Cora Berchem with Save the Manatee Club told the Apalachicola & Carabelle Times that the reclassification could cause people to exhibit less caution.  
"That's not the case," Berchem said. "If we have more manatees, we also have more to protect." 
The FWC encourages boaters to take the following steps to minimize risk to one of Florida's most iconic species:  
Abide by the posted speed zone signs while in areas known to be used by manatees or when observations indicate manatees might be present.

 
Wear polarized sunglasses to reduce glare on the surface of the water, which will enable you to see manatees more easily.

 

Try to stay in deep-water channels whenever possible.

 

Avoid boating over seagrass beds and shallow areas. Manatees are often found in shallow, slow-moving rivers, estuaries, lagoons, and coastal areas.

 

Remain at least 50 feet away from a manatee when operating a powerboat.

 

Please don't discard monofilament line, hooks, or any other litter into the water. Manatees and other wildlife may ingest or become entangled in this debris and can become injured or even die.

 
For more information, visit: Manatee Tips for Boaters 
Giant squid
Scientists from Florida International University were among a team of researchers to capture the first video of a giant squid in U.S. waters.  As scientists neared the end of their 17-day research mission, they spotted the elusive creature about 100 miles southwest of New Orleans. This is the second time footage of this kind has been recorded worldwide. The first recording was in 2012 near Japan. 
"It was magical and surreal to see how the animal behaves in nature," FIU marine scientist Heather Bracken-Grissom told FIU news.  
"To know that I was witnessing something that had only been seen once before in nature filled me with an overwhelming sense of gratitude and respect for what still is to be discovered." 
Giant squid can grow up to 40 feet long and live at least 1,000 feet beneath the surface. They are typically able to avoid interactions with people. This squid was a juvenile at and measured between 10 and 12 feet in length.  
To capture the video, the research team used a camera system called the Medusa, which features a ring of LED lights that resembles the squid's favorite meal — a bioluminescent jellyfish.  
"Quickly realizing the imposter jellyfish was not what it seemed, the giant squid thrust itself back into the darkness," reads the FIU news release. "As quickly as it had entered the picture, it was gone. But it was enough to take the breath away of each of the researchers." 
To learn more about the giant squid, visit: Smithsonian Giant Squid 
Sturgeon
Sturgeon are showing signs of recovery in Maine, Michigan, Wisconsin and Florida's Suwannee River. Sturgeon caviar became a luxury staple food in the 1800s, and along with increased pollution, dams and overfishing, the fish were pushed to near extinction.  
But, thanks to fishing bans, water cleanup and dam removal, scientists are now seeing signs of recovery for this fish that once swam with dinosaurs. Even still, the sturgeon population today is only a fraction of what it once was. Experts say it will take decades to measure the recovery.  
In the Suwannee River, the population has doubled since the 90s to about 10,000 fish.  
The species still faces various threats including the Gulf Coast's ever-warmer waters, Adam Kaeser, an aquatic ecologist with the U.S. Fish and Wildlife Service told the Associated Press.  
For more information, visit: Sturgeon — America's Forgotten Dinosaurs Show Signs of Life in Florida 
Bay Scallops
The recreational season for bay scallops runs until September 24, but this year hasn't been one for the books according to FWC officials. This year FWC estimates that in Hernando County, one of the state's prime scalloping grounds, there were only about two scallops per 200 square meters compared to 3.5 last year.  
But we shouldn't worry just yet, biologists say. Scallop populations vary widely from year to year. This is because the saltiness of water and the placement of scallop larvae can affect the scallop's growth and health.  If the low population trend continues year after year, then red flags would be raised. 
Ryan Gandy, research scientist with Fish and Wildlife's shellfish program, told the Tampa Bay Times that the abundance of scallop predators, like pinfish, can also impact the scallop population.  
"These species are a lot like potato chips," Gandy told the Times. "Everybody likes to eat 'em."  
To learn more about Florida Bay Scallops, visit: FWC Bay Scallops 
Roseate Spoonbill
Bird biologists say roseate spoonbills are a climate change adaptation success story. While the impacts of a changing climate have threatened bird species across the U.S., the spoonbill has adapted. Today, populations of roseate spoonbills in the Southeast have reached their highest levels in modern times.  
This is because they're flexible. When fragmentation of the Everglades cut off clean water flow from Florida Bay, the spoonbills found refuge further north. As sea-levels rise, spoonbills have established rookeries inland.  
"They are an ancient race of birds, so they've been through this before," Jerry Lorenz, state research director for the Florida Audubon Society and Florida's preeminent expert on spoonbills told the Florida Climate Reporting Network. "They've always had to adapt to sea levels. The thing is, they're smarter than human beings. They know how to get out of the way of rising water." 
But, researchers still want to know why some species are able to adapt while others aren't so lucky. It's a hard thing to predict. What scientists do know is that a bird's diet, mobility and how they build nests are all factors in their ability to adapt to a changing climate.  
To learn more, visit:  For One Rare Bird, Flight from South Florida's Changing Climate Sparks a Surprising Revival