To pair with the rest of our educational content in each Earth to Florida newsletter, we bring you monthly updates on statewide environmental news. Read on below to see what we found for the month of May:
15 Florida Stories to Watch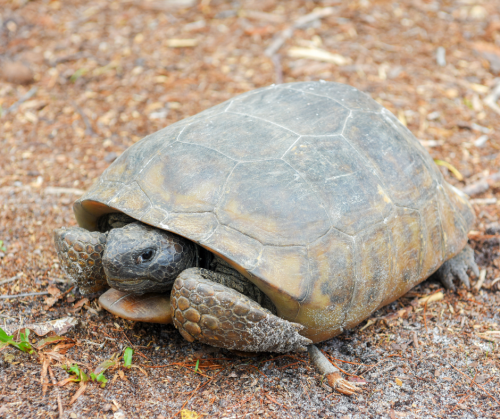 The Good News
Based on a new report by the Sarasota Bay Estuary Program, water chemistry and quality in the bay are generally good and improving. Most areas show an increase in water transparency which is critical for healthy seagrass populations. Better management of wastewater in the surrounding areas may be the reason behind these improvements.
Fishermen are currently testing ropeless gear that will eliminate the risk of whales getting tangled in fishing ropes. With this new technology, ropes are contained within the fishing trap until remotely released by the fisherman's cellphone or tablet when ready to be picked up. These sustainable traps were featured in the Canadian documentary Last of the Right Whales which emphasizes the importance of protecting North Atlantic right whales, a species that is on the brink of extinction.
The Miami-Dade County Public School District, the largest employer in Miami, will soon be hiring its first sustainability officer. The position will be tasked with helping to reduce the school district's carbon footprint and move toward a clean energy future.
Things You Can Do
Stormwater infrastructure in Florida is designed to mitigate flooding by redirecting rainfall to local bodies of water or using infiltration basins to collect water and encourage it to seep into the ground. However, as the water travels over impermeable surfaces like streets, it has more opportunities to pick up urban contaminants like fertilizers, pesticides, and bacteria. You can be a good stormwater neighbor by trapping and storing stormwater on your own property to encourage infiltration before any urban contaminants can be collected. Use rain barrels and cisterns to capture and reuse rainwater, and transform your downspout into a rain garden using gravel, soils, and native plants that store and treat stormwater.
Expand your sustainability journey into the kitchen with these 5 tips on how to make your kitchen eco-friendly. To start, get creative with your cooking by using all parts of your produce, reusing your water as much as possible, and using your cooktop efficiently for low-waste and low-energy cooking. Similarly, avoid food waste by taking home your leftovers from restaurants in reusable containers. Finally, replace the need for buying Mason jars by washing and reusing old jars from salsa, jam, or anything else you already have.
Florida Research News
Researchers from the Florida A&M University-Florida State University College of Engineering's Resilient Infrastructure and Disaster Response Center (RIDER) are working to improve predictions of where road-clogging debris will be most severe following extreme weather events. The team used satellite images to measure post-storm vegetation before and after two tropical storms and three hurricanes. They found that debris was heavier in suburban and urban areas, where there is a higher density of people and roads. Access to safe and uninterrupted road travel is essential so that fallen power lines can be removed, people can access medical care, and communities can begin to recover.
Scientists from the University of Florida have grown plants in soil from the moon. In their new journal article, the researchers studied how plants responded to the moon's soil and found differences in these plants' growth, such as decreased size and slower growth rates. Although these observations implied that the plants perceived the moon's soil as a stressful environment, this achievement marks the next step in successfully growing plants for food and oxygen in outer space.
Researchers from Florida International University's Bonefish & Tarpon Trust (BTT) discovered that the blood and tissue of bonefish living off the South Florida coast are tainted with pharmaceuticals. Fish contaminated with these substances may experience behavior changes that could jeopardize their survival. According to BTT president and CEO Jim McDuffie, pharmaceuticals are often overlooked contaminants that may pose a threat to Florida's recreational saltwater fishery.
National News
The More You Know
A team of scientists from the University of Cambridge analyzed more than a million satellite images and found a net loss of more than 1,500 square miles of tidal wetlands around the world over the last two decades. Their research indicates that about 27% of losses and gains in tidal wetlands were connected to direct human activity like conversion to agricultural lands and wetland restoration efforts. Other changes were linked to indirect drivers like coastal subsidence, natural coastal processes, and climate change.
According to a new report, more than one in five reptile species worldwide are threatened with extinction. Despite evolutionary historical significance and importance in ecosystems, reptiles are often less prioritized than mammals and other classes of animals when it comes to conservation efforts. The list includes animals such as the king cobra, the Galapagos marine iguana, and several species of sea turtles. Habitat destruction is currently the greatest threat to reptiles worldwide, followed by climate change, invasive species, and hunting.
A new study is exploring the formation and stability of greenhouse gases trapped as hydrate crystals in the world's oceans. By studying the conditions in which this "fire ice" forms within the nanopores of sedimentary materials in a range of deep marine environments, scientists will gain an understanding of how these important hydrocarbons will behave under changing ocean temperatures and pressures. One of the trapped gases, methane, can warm Earth 30 times more efficiently than carbon dioxide, leading to the question: As oceans warm will the methane 'Kraken' be released?