Borrow, don't buy! Borrowing a book from the library instead of buying a physical copy yourself is a simple way to reduce your carbon footprint by combatting the amount of paper waste in circulation.
In a 2008 report by US Book Industry, it was reported that paper accounts for about 26% of the world's waste in landfills. The total carbon footprint of the United States book publishing industry amounted to 12.4 million metric tons in 2006, or about 8.9 lbs of CO2 equivalent for each book sold in the U.S. As of 2019, the United States produces the second-largest amount of paper in the world.
Libraries Working Toward Sustainability
In 2019, the American Library Association (ALA) added sustainability to its core values. In 2020, they launched a pilot program that funded sustainability-themed film screenings and other community events in 25 public and academic libraries, and they created a free suite of programming resources. The ALA's Sustainability Round Table provides librarians with resources and offers a mentorship program for students and early career library professionals.
The Sustainable Libraries Initiative launched the Sustainable Library Certification Program, which helps member libraries achieve internal sustainability goals and community leadership. They also offer several free resources on their website. If you are a library employee or volunteer, check out the links for libraries at the bottom of this page!
Public Libraries
At the library, you can borrow more than just books. Below are some of the other resources you might find at your local public library: 
Newspapers & Magazines

 

Ebooks

 

Audiobooks

 

DVDs

 

Music CDs

 

Genealogical documents

 
Some libraries offer an even broader range of items – the Alachua County Public Library system offers STEM kits for K-5 children, sensory toys, and birding kits for checkout.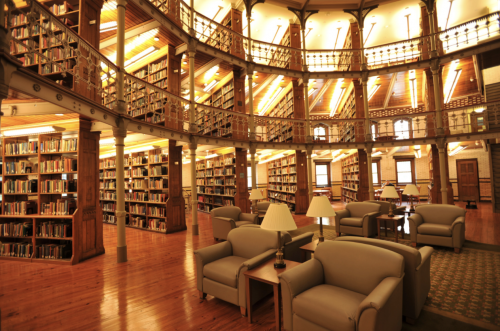 University Libraries
Most university libraries can also be used by the general public. They are typically similar to a public library, except that they specialize in books on academic subjects and may offer online access to academic journals that would otherwise require a fee to access.  
Seed Libraries
Want to garden? Get started with the help of a seed library! These may be a part of your local library or could be run independently. How does it work? Seeds are often available to the public for free, or for a small membership charge. At the end of the growing season, gardeners are encouraged to collect seeds from their plants and return some of them to the library. Many seed libraries focus on rare, local and heirloom seeds that may otherwise be difficult to come by.
Alternat
ive Libraries
The Free Little Library has taken off in popularity over the last several years. These are small libraries, typically just bigger than a mailbox, that individuals can set up in their own yard. Since books are both borrowed and donated by the community, you can never be sure what you're going to get! Check littlefreelibrary.org to find one near you. 
Your city might also have an independently run library. Often, these smaller libraries specialize in topics that are more niche and difficult to find at a public library.  
Another fun way to borrow is to participate in a book swap! You can find many places to swap books with other people online, or check for local in-person swaps through Facebook groups or other community forums. You could even host your own book swapping party for your friends! 
Info from the American Library Association, Ecolibris, Stand.Earth, the Sustainable Libraries Initiative, and the World Counts. 
Resources 
Gainesville, FL
Other Resources
For Libraries