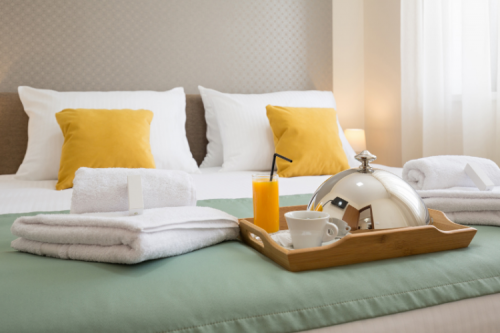 Are you one of the 63% of Americans planning to travel this holiday season? We might think about the impact our transportation has on the environment, but did you know that the hotel sector is responsible for 21% of all of the ecological footprint generated by tourism? We've collected some tips to help you reduce your environmental impact during your next hotel stay. 
Find an Eco-Friendly Hotel
Before booking your stay, see if you can find a hotel that shares your environmental values.
Look for hotels that have been certified by a credible organization such as EarthCheck, Green Key or Leadership in Energy and Environmental Design (LEED). Try to find out what specific sustainability policies they have initiated.
There are websites that can help you research a hotel's sustainability practices by calculating the carbon footprint of your stay and providing eco-friendly ratings. See some examples in our resources section at the end of this article.
Think Outside the Box
There are a lot of off-the-beaten-path lodging options that might be more sustainable than a large chain hotel, even if they haven't been certified. Explore options such as tiny houses, cabins, glamping setups, and sustainable hostels. Locally owned hotels are also more likely to obtain products and services from within their local community.
Reuse Linens
Most hotels now have linen and towel reuse programs. Instead of having staff switch out your sheets and towels each day, reuse them for part or all of your stay. Though reuse programs have been criticized as an example of greenwashing, according to the American Hotel and Lodging Association, this reduces loads washed by 17%, which results in lower water and energy usage and less frequent replacement.
Reusable Dishes
Use glasses, coffee mugs, and metal utensils rather than disposable products if they are available, and ask staff if it is an option if they are not. Bringing your own water bottle and travel mug with you can be a big help!
Greener Transportation
To reduce carbon emissions, take advantage of hotel shuttle services and loaner bicycles if they are provided.
If the hotel doesn't offer transportation options, research bike rentals and bus routes in the hotel's vicinity.
Fill out the Feedback Form
Disappointed with your hotel's sustainability practices? After your stay, fill out the hotel feedback form and let them know. The more customers speak up, the more hotels will be motivated to change their standards.
Information from Info from How to Travel Sustainably, Smithsonian Magazine, the Vacationer, the Washington Post, and World Nomads. 
Find Eco-Friendly Lodging and Travel Destinations
More Tips for Sustainable Travel