Exit Checklists are required for all departing employees and should be completed by the supervisor and employee during the exit interview.  The  Exit Checklist can be found here.
IMPORTANT STEPS FOR SUPERVISORS
Please forward the completed UF employee Exit Checklist to your Dept Admin (Brittany Snipes or Melissa Shields).  Your Dept Admin will immediately alert BHR.   If the employee is a TEAMS or Post Doc, they must submit a letter of resignation along with the Exit Checklist.
Off-Boarding Guide for Supervisors (click image to print)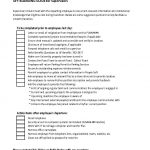 EXIT INTERVIEW
The supervisor or another designated employee should schedule an exit interview on or near employee's last day.  If employee is separating from UF, you would also need to retrieve their Gator1 card, Pcard and keys if applicable.  Ensure all UF property has been returned.  If employee is relocating, remind them to update their address in myUFL>My Service to ensure W-2 is sent to correct location.